Exotica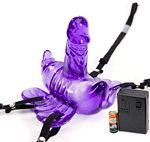 Remote control butterfly
Strap-ons aren't just to do unto others any more; they're also to do unto yourself. You can choose a remote control strap-on clitoral vibrator, often shaped like a dolphin or butterfly, or even go for the works with a deluxe self-masturbator like the Remote Control Butterfly strap-on harness penis butterfly, which has a 3-inch penis and is designed to stimulate the clitoris, the G-spot, the anus. And your partner can control it with the remote from 15 feet away!


Hub and two attachments
It's great to have a party in your own pants, but if you're in the mood to share, try a duo with remote control, so one, two or even three of you can play in the sandbox together. The Hub boasts two independently controlled jelly attachmentsa ribbed 12 inches and an eight-incherand a whiplashing eight functions and eight speeds. The Hub is also harness-compatible.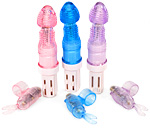 Flash flapper
If you want a bit of a show...with the Flash Flapper, it's not bells and whistles, but it is flashing lights and LED indicators for couple or even party fun. But this elastomer vibrator's no one-trick pony: it features separate controls for its ribbed shaft and the bunny-eared clit arouser, which is attached by an adjustable ring.


Vibrating fantasy clampsAnd if you're feeling experimental, clamps don't have to hurt (unless you want them to), and they're not just for nipples. Vibrating Fantasy Clamps feature spring-loaded screws that allow you to adjust the pressure.
Anal Vibrators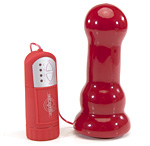 Red boy small butt plug Many women do, as well as some men because of the proximity to the sensitive prostate. You can choose either a streamlined plug like Red boy small butt plug. Since the anus is non-lubricating, make sure to use a liberal amount of lubricant, and you might want a lubricant with a desensitizer. Plugs are usually no more than five inches long and the base is flared to prevent them from disappearing inside (yes, it's funny on "ER" but not in real life!). Anal beads made from jelly rubber can also provide varied sensations as they're pulled in and out by a ring. Re- member that it's especially important to keep anal toys free of bacteria by cleaning them according to their materials' specifications, and not to switch between orifices without cleaning.
Fanny's Favorite

Monami
Actually, Fanny's favorite vibrator is one that does not insert into the anus, but provides the perfect perineum and a-hole tickle. The sculptural Japanese Monami sports a rotating spiral shaft between two vibrating stimulators with twin antennae for the clitoris and the anus. The separate motors and controls for each make the Monami a can't-wait-to-do-it-again experience.
Getting Started: 10 Questions to Help You Choose a Vibrator
Now that I've given you an overview and a few recommendations, the bottom line is that only you know what does it for you. Here are some things for you to think about as you search for the right vibrator(s) for your needs:
Do you want an electric- or a battery-powered vibrator?

Shapedo you prefer a traditional phallic shape or something more whimsical like a dolphin or butterfly?

What size do you want?

Keep in mind that the length you like inserted in real life might not be what you'd like in a non-human friend.

What colors do you like?

Flesh-tones? Bright purples and pinks?

Do you prefer something small and discreet that won't embarrass you at the airport?

Do you want penetration and clitoral stimulation simultaneously or one without the other?

Do you think you'll use your vibrator solo or want to share?

Do you want a simple on/off switch at the base of the controller or do you think you can handle separate switches for each function in the heat of the moment or a cord from a hand-pack controller?

Does it need to be quiet?

Quiet is all relative in the world of vibrators - yes, someone in the same room can most probably hear it, but whether or not your neighbors can depends on how thick your walls are. If you're worried, crank up the music, muffle the sound under the covers, and keep in mind that water toys are even louder!

Do you want it to be waterproof for bath-time and hot-tub play?